Connected living experience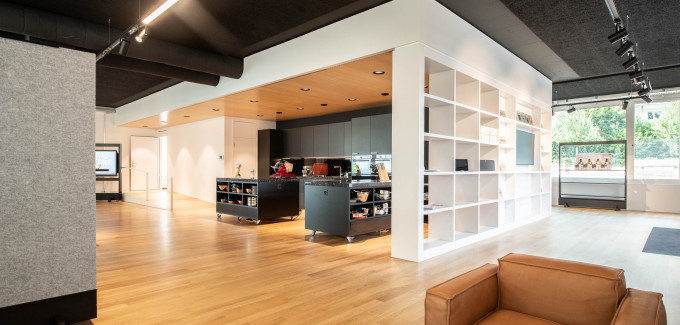 Connected living experience
Welcome to Smart Living
The world is changing and so are our homes and the way we live in them. The drivers of change are social megatrends and technological developments that create new needs among tenants and homeowners. Smart Living has created a new style of living that offers greater quality of life and security. As market leader for networked living in Switzerland, bonainvest Holding and its subsidiary bonacasa offer unique added value with their Smart Living concept: sustainable architecture, networked house technology and individual living services.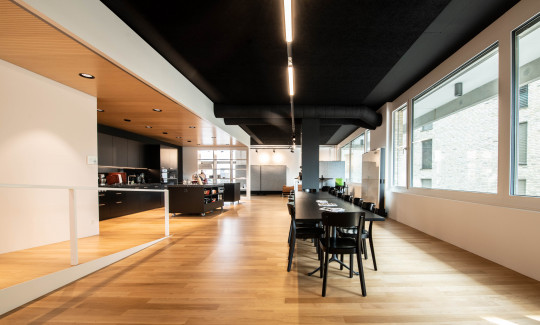 Welcome to the Smart Living Loft
With the Smart Living Loft, bonacasa has created Switzerland's leading platform for this new style of living. In cooperation with our partners from the realms of architecture, construction, building technology, digitalization and science, we have created a model space of 180 m2 to show how networked living enriches, simplifies and makes everyday life safer. Bathrooms without thresholds, showers with energy recovery, smart lighting, 24/7 emergency call service, intelligent parcel acceptance systems, functional kitchens - in short, the whole world of smart living can be discovered, touched and experienced in one place. The Smart Living Loft also serves as an ideal meeting place to develop new products together with partners and to try out proven products with visitors. Be it a workshop, a panel discussion or a meeting - with or without culinary accompaniment from our catering partner.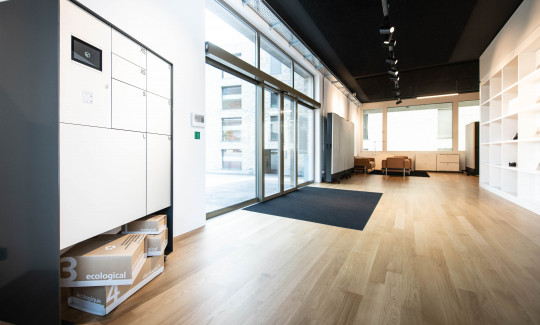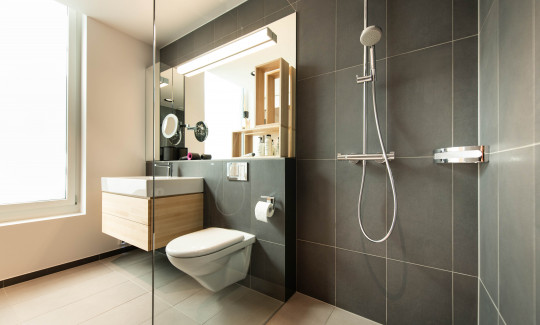 Welcome to the future
Although bonacasa has installed Smart Living in more than 1000 apartments built by the parent company bonainvest Holding at 23 locations in Switzerland and although bonacasa also has over 6500 apartments under contract and managed by external business partners, we regard Smart Living as a work in progress. We keep our finger on the pulse and do not rest on our laurels in order to be able to offer our end and business customers ever smarter solutions.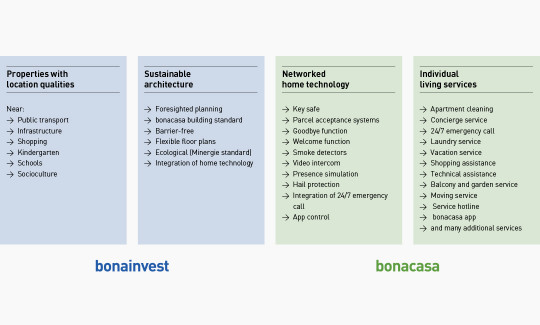 Our model for success
The four-stage model for Smart Living from bonainvest Holding and its subsidiary bonacasa has proven itself a thousand times over and is constantly being further developed. The individual modules are interlinked and function interdependently. It quickly becomes clear, for example, that the most modern house technology can only work if it is provided for in the building design. A later integration would incur high costs and is often not even possible. From the selection of suitable properties to the service management platform for the Living Services, bonainvest Holding and bonacasa have a secure lead in the rapidly growing market segment of Smart Living.
Welcome to our partners
The realization of our Smart Living concept would not be possible were it not for close cooperation with distinguished partner companies at home and abroad. Many of them are represented in the Smart Living Loft with their own presentations that highlight innovative solutions for the present and future of Smart Living.
With innovative products and services, 4B makes everyday life easier and creates homes that are sustainably comfortable. The Swiss company is known for windows, doors and building envelopes that have more to offer in all phases of life: light in abundance, freedom of movement without obstacles, automated operation and full privacy.
ABB is a global technology leader in electrification products, robotics and drives, industrial automation and power grids with customers active in energy, industry, transportation and infrastructure. ABB is present in more than 100 countries with approximately 136,000 employees.
The Foundation Age-Stiftung promotes residential and care services for aging in German-speaking Switzerland with financial contributions. In order to promote the breadth and diversity of housing options, the Foundation invests in sustainable projects and provides information about good examples on the website age-stiftung.ch.
The Allthings Tenant Platform enables 100% of interactions between tenants, property owners and service providers to be captured through all major communication channels. The platform includes a building app store with a modular set of features for residential and commercial tenant communities, an omnichannel infrastructure for easy tenant communication across all communication channels, an open API, SDK and interfaces for easy third-party integration.
Gourmet Chef Andy Zaugg, based in Solothurn, combines the three business divisions event catering, gourmet cooking courses and gastro coaching. The company was founded in 2016 and is managed by Andy and Roberta Zaugg.
bfb has been active as a manager and planner in the construction industry for over 30 years. This makes the company the ideal partner for builder consulting, architecture, and quality management. Drawing on its many years of experience, bfb provides its customers with professional support in all work phases.
BKW Energie AG is an international energy and infrastructure company with around 1,400 employees provide building technology services.
CURAVIVA Switzerland is a national industry association with a high level of expertise and an orientation to employers' policies. It is active in sectors that focus on people with a need for support, especially on children and young people, adults with disabilities and the elderly. The association supports its members in fulfilling their mandate for championing skilled work and initial and continuing training as well as ensuring the quality of life and shaping the framework conditions of these sectors.
Gilgen Door Systems is a supplier of drive systems and complete systems for automatic doors, gates, walls and security doors. With subsidiaries as well as sales and service partners, the Swiss company is represented in over 70 countries worldwide.
As a renowned provider of security and convenience solutions, Glutz has been combining craftsmanship, technology, design and customer service for secure and convenient access for more than 150 years. The company's own development and production of locks, fittings and access systems enables integrated solutions for doors and the implementation of solutions that meet individual requirements. The Solothurn-based company has subsidiaries in Germany, Austria, the UK and Singapore. Glutz employs around 300 people.
GROHE is a leading global brand for integrated bathroom solutions and kitchen faucets and has been part of the LIXIL Group Corporation since 2014. As a global brand, GROHE relies on the values of technology, quality, design and sustainability to deliver "the pure joy of water". The company is constantly opening up new product categories: The GROHE Blue and Red water systems and the GROHE Sense water safety system are innovative building blocks in the Smart Home growth market.
The Lucerne University of Applied Sciences and Arts - Technology & Architecture - focuses on sustainable knowledge transfer in the fields of construction and technology. Its work is based on training and practical projects as well as continuing education and services in the core areas "Buildings as a System" and "Research for the Energy Transition".
Pfister Professional is the experienced Swiss partner for interiors and offers everything from a single source. The company plans rooms and devises, designs and carries out the work with its own teams. Pfister Professional installs and maintains floor coverings, furnishes rooms and installs curtain systems. Swiss quality with a distinctively modern touch.
International leader in networked lighting solutions. Signify is the new company name of Philips Lighting. Signify is the world leader in networked LED lighting systems and in networked software and services. Through innovation, Signify uses the extraordinary potential of light to achieve a more comfortable life and a better world. Philips Hue's networkable products are compelling to the end customer segment due to their innovative features, ease of use and combinability.
Quooker is a family business based on enthusiasm and entrepreneurial spirit. The Quooker was the very first boiling water tap in the world. With a Quooker you bring a sustainable product into your home. However, it is not only the product itself that is environmentally friendly, because Quooker strives for sustainability at all levels. With respect for people and the environment. At Quooker we work with great passion on our common vision.
Sanitas Troesch offers bathroom and kitchen expertise all from a single company. A large selection with surprising ideas, expert advice in a friendly atmosphere and reliable installation at the customer's home are important values for the company.
SmartLife Care was founded by Swisscom in 2010 and has been run as an independent joint venture between Swisscom and Helvetia since 2017. The SmartLife Care service is primarily aimed at senior citizens, but it is also used by Spitex services and people with fragile health, such as the chronically ill or patients after a hospital stay. The innovations and world firsts of SmartLife Care have received numerous renowned awards in the field of innovation and design in recent years. SmartLife Care is an official partner of Spitex Switzerland.
The family business s: stebler from Switzerland manufactures innovative and high-quality products involving letterbox systems as well as glass and metal construction. Through the use of high-quality materials, s: stebler products are unsurpassed in terms of aesthetics, functionality, value and durability.
As a Swiss company, talsee focuses on more design and individuality in the bathroom. talsee develops and produces bathroom furniture featuring optimized functionality and premium quality.
V-ZUG is the Swiss market leader for high-quality, innovative household appliances. Whether for cooking, dishwashing or washing, V-ZUG considers sustainable products to be a strategic field of innovation and is committed to lower energy consumption before, during and after the use phase.
Zaugg & Zaugg AG, based in Derendingen, has developed from an architectural office and cabinet maker to a leading center for innovation, creativity and designer furniture.
Visit us
A visit to the Smart Living Loft is possible on request.
Smart Living Loft
Hauptstrasse 22
CH-4702 Oensingen
info@smartlivingloft.ch