Beau Site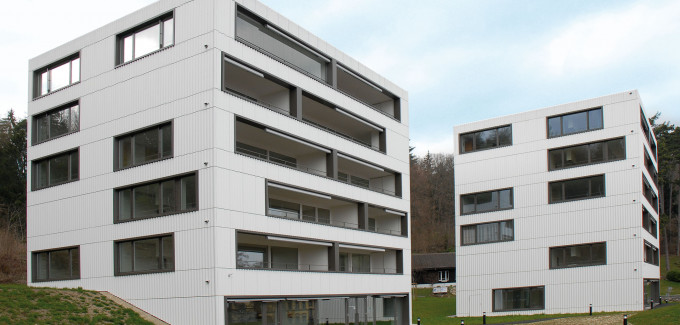 Beau Site
The bilingual community of Leubringen (French: Evilard) is situated above Biel in a privileged location. In Leubringen, there has long been a need for spacious, age-appropriate apartments opposite the La Lisière retirement and nursing home. After an initial project by the municipality had not been completed, the local community commissioned Evilard bonainvest to implement the project. To this end, the bonacasa Beau-Site Evilard cooperative was set up.
The bonacasa Beau-Site development was built in a beautiful panoramic location above Lake Biel, directly on the edge of the forest, and the project competition was completed at the end of 2005. Of the 21 projects submitted, the one by the Frundgallina architectural office in Neuchâtel convinced the jury the most. The two buildings Beau Site received the Minergie label. The modern and also ecologically fastidious front solution permits a good ventilation. The solar collectors installed on the roof and a pellet heating round the sustainability thought off.
The superstructure was realized in cooperation with the architectural office frundgallina sa from Neuchâtel. The apartments were built according to bonacasa building standards and are Minergie certified.
Key data
Adresse

2533 Evilard / Bern
Purpose
Apartment property
Number of units
20 Apartment property
2 Commercial units