Pioneering strategy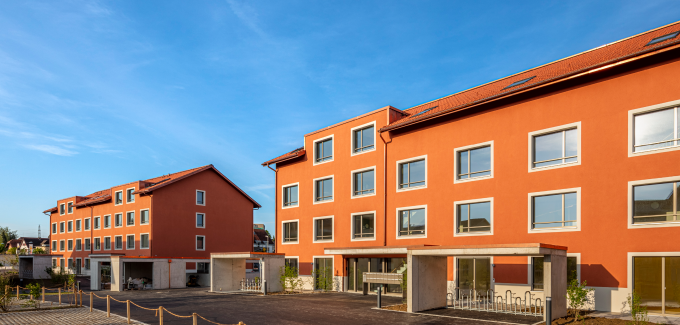 Megatrends
The changing world of housing
The world is changing and so too is housing. The conventional family which defined residential building criteria for many years is now just one lifestyle among many. Today, demand is also shaped by childless couples, senior citizens, single parents, singles and home-sharing. But basing a strategy fit for the future solely on socio-democratic target groups would not go far enough because individual needs that are tied neither to age nor to civil status are becoming ever more important.
bonainvest Holding's long-term strategy is therefore guided by megatrends. Megatrends not only alter individual areas of social life or of the economy: they transform whole societies and are the factors underlying long-term change.
Individuality means freedom of choice; the ability to decide for oneself how to live and in what kind of home. Personalisation is the process of broadening areas of freedom and opportunities for the individual. Personalisation creates new needs, such as a growing demand for Living Services. It also influences the way people live. For instance, the proportion of single households is increasing constantly. In cities, more than 50% of people already live in one-person households and the trend is rising.
Networking is the new basic factor in our lives. Via the Internet virtual network, a person can contact almost anyone else using any kind of device all over the world. The lights are switched off automatically and the heating goes into eco-mode when you leave home. Intelligent sensors recognise the occupants and monitor their state of health. Your smartphone automatically suggests an alternative route to the office when traffic is heavier than usual. Welcome to the age of the "Internet of things". Alongside digital networking, social networking is also important for a full life.
In Switzerland, the population segment over the age of 65 has expanded greatly in the past 20 years and is set to grow even more in coming years. A different age culture and with it new life styles shape the image of ageing, while the boundaries between generations are becoming blurred. A multi-ageing culture is emerging with different needs and individual forms of ageing as well as a group of older persons with a strong focus on lifestyle and comfort and for whom topics such as health and security are also important.
Innovative resource-saving ideas will become ever more important in future. Energy-optimised construction techniques, durable materials and sparing use of resources are important today and will remain so in future.
Strategy
Changes triggered by megatrends and individual demands placed on ecology and connectivity are driving the new way of life in Switzerland. bonainvest Holding's strategy has great potential and is targeted precisely on these new needs, firstly by satisfying the demand for sustainable architecture and construction in all its aspects. Secondly, modern domotics and individual choice of bonacasa Living Services are equally attractive to young and older persons alike.
Smart Living
The bonainvest Holding approach to networked living is uniquely successful. With the Smart Living Loft, Switzerland's leading platform and a showroom for the new living culture was created. As market leader in smart living, we bring unique added values to tenants and home owners:
Land with special location qualities
The purchase of land at central locations with working infrastructures, an existing socio-culture and good public transport links is a must for the development of our sustainable property projects. Proximity to a viable infrastructure is a key criterion of our investment strategy.
Sustainable planning and building
At the planning phase, we instruct architects to develop our properties in line with the regulatory provisions – the bonacassa standards – defined by us, so that they are optimised on more than 200 points of detail. Clever floor plans and good furnishing opportunities, together with sustainable energy optimisation, are other important planning criteria. The focus in the residential mix is on homes with 2.5 and 3.5 rooms. In addition, depending on the particular location, small apartments are also provided; demand for these is growing from singles or persons who need a second home for private or professional reasons. Our homes with 3.5 and 4.5 rooms are optimised to make them perfectly suitable for home-sharing too. A bonacasa home must always have good-sized and flexible spaces to maximize individuality.
Ecological optimisation

bonainvest Holding builds sustainable properties designed to respect ecological standards: higher internal density, energy efficiency compliant with the Minergie standard and durable materials are priorities for us. We take great care to make economical use of natural resources and ensure that our buildings and homes can be used flexibly and for the longest possible time. Our homes are obstacle-free with showers and bathrooms designed for easy adaptation to the needs of elderly and physically restricted persons. That saves the need for property owners or tenants to make expensive conversions and is good for the environment.
High quality with no obstacles
A bonacasa home must be accessible from the building entrance and indoor car park by lift without obstacles. A walk-in balcony and shower are also essential. Older residents appreciate this freedom from obstacles, while younger persons find this feature both practical and elegant. All the construction elements and materials used must be durable and of high quality to comply with bonacasa standards.
Additional equipment
All properties and homes built by bonainvest benefit from added value in fixtures and fittings. The electronic key safe built into all our properties gives the rescue services round the clock access to the home in a medical emergency. In cooperation with innovative technology partners we develop and install domotic solutions to make residents' lives more comfortable and secure in our homes. We also build intelligent parcel acceptance systems into our properties to store goods delivered when the addressee is not at home. We fit our homes with the very latest kitchen appliances while all the fixtures and fittings are superior to the market average.
Digital networking
Since 2017, our smart homes have also provided digital comfort and security functions: just click on the "Welcome" or "Goodbye" switch and the apartment will be set automatically to the working or resting mode. Many other comfort and security functions, such as a networked emergency call device and built-in smoke detector, are available. As an option, the home can also be controlled by smartphone. Residential services can be ordered conveniently using the bonacasa-app and the service management platform developed by bonacasa. In cooperation with our partners from architecture, building industry, home technology, digitisation and science, the Smart Living Loft shows on 180 m2, how networked living enriches, facilitates and makes everyday life safer.
Social networking
We attach as much importance to social networking as we do to digital connectivity: the bonacasa service telephone is available to residents who wish to put questions or requests and order services. The "Good Fairy", as we like to call our bonacasa concierge, organises not just residential services but also excursions and events from a hike to a jazz afternoon in the party room on the estate. These shared experiences are the bond for good neighbourly relations and help to prevent older occupants from feeling lonely.
Individual Living Services
bonacasa provides an extensive range of Living Services and each property has its own concierge. Services are ordered via the bonacasa app, by service telephone or in a personal conversation with the concierge.