Casa Meridiana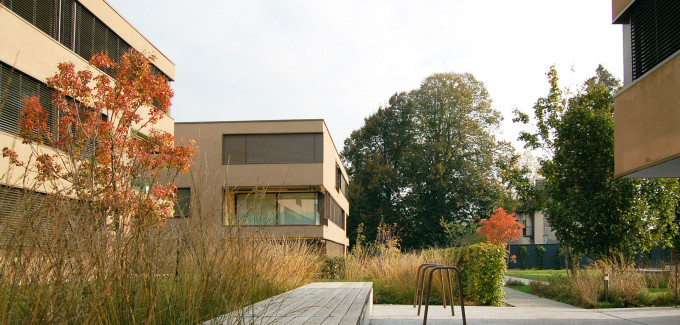 Casa Meridiana
Feldbrunnen
Casa Meridiana
Feldbrunnen-St. Niklaus is a thriving village to the east of the city of Solothurn. The locality is known for its attractive tax rate; this is set at 65% for natural persons. Stringent criteria in respect of functionality and economy were placed on the Casa Meridiana estate. Priority was given to integration into the local setting and landscape, together with superior architectonic quality assuring great privacy and maximum exposure to sunshine, light and views.
High grade materials and exceptional architecture make the Casa Meridiana project something special. The bright apartments are good-sized with perfect exposure to sunlight. The semi-detached houses benefit from a preferred position and attractive space division.
The project was implemented in cooperation with the Kistler Vogt Partner AG architects' practice of Biel. The buildings are Minergie certified and heat is generated by wood pellets. In addition, the apartments have been built to comply with bonacasa construction standards.
Key data
Adresse
Längackerstrasse 4
4532 Felbrunnen / Solothurn
Purpose
Stockwerkeigentum
Completion
2013

Number of buildings
5
Number of units
3 Double single family houses
2 Apartment buildings

Project website
Residential rental index
| Rooms | Total | of which for sale | of which for the portfolio |
| --- | --- | --- | --- |
| 2.5 | 1 | 1 | 0 |
| 3.5 | 2 | 2 | 0 |
| 4.5 | 3 | 3 | 0 |
| 5.5 | 2 | 2 | 0 |
| 6.5 | 6 | 6 | 0 |
| 9.5 | 1 | 1 | 0 |