bonainvest Holding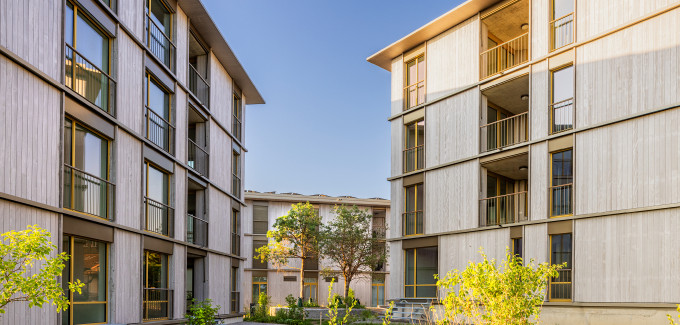 bonainvest Holding
Future included
bonainvest Holding AG is a real estate investment company which develops and builds residential properties. Our unique selling proposition is the concept for networked living with sustainable architecture, structural added values and individual residential services of the holding company bonacasa AG. In Switzerland, bonainvest Holding has built over 1000 flats based on the bonacasa concept, which offer their residents unique added values. We are currently developing or building more than 500 additional flats.
Progress of business
Even in times of geopolitical and economic upheaval, we managed to achieve above-average results. The operating result for 2022 is CHF 17.4 million, exceeding the previous year by 57.5.% or CHF 6.3 million. Net profit is up 55.2% on the previous year to a pleasing CHF 13.3 million and finally earnings per share improve by 55.3% to CHF 3.96. In view of the once again good annual results and the solid financial foundation, the Board of Directors proposes an increase in the dividend from capital contribution reserves from CHF 1.70 per share (2021) to CHF 1.90 per share.
We were able to further strengthen and expand our leading position in the field of Smart Living in 2022. Our concept, which is unique in Switzerland, is increasingly catching on with large sections of the population. Contemporary sustainability, digital networking and individual services are among the added values with which we differentiate ourselves in the real estate market. And our success proves us right. In 2022, the vacancy rate of our flats was again exemplary low and the sales of condominiums were significantly above expectations. The outlook for our company, which will complete projects worth CHF 300 million this year, is also attractive.
Highlights as at 31.12.2022
Balance sheet total

505.8

million CHF

Portfolio value

308.9

million CHF

Rental income

11.5

million CHF

Annual profit (net profit)

13.3

million CHF
Pioneering strategy
With a combination of properties fit for the future and customer-focussed Living Services, bonainvest Holding pursues a clearly defined and lucrative strategy that is constantly gaining ground against the background of prevailing megatrends. As a leading proponent of change on the property market taking account of new needs, bonainvest has achieved a unique position which puts it in a favourable light on an increasingly saturated market and brings added value for customers and investors alike.
Business divisions
With its subsidiaries bonainvest AG, bonainvest Holding combines competence and know-how for real estate. The Group's business segments are:
Property portfolio
bonainvest Holding develops and builds all the properties itself. bonacasa gives the portfolio distinct advantages on the construction and services sides. bonainvest Holding properties are among the most sustainable in Switzerland: contemporary architecture, obstacle-free construction, intelligent floor plans and networked technologies, together with unique Living Services provided by bonacasa, are unique selling points against the background of increasingly challenging competition.
Growth
With the completion of all projects currently in the pipeline by 2026, the entire bonainvest portfolio is expected to grow to a valuation size of approximately CHF 600 million.